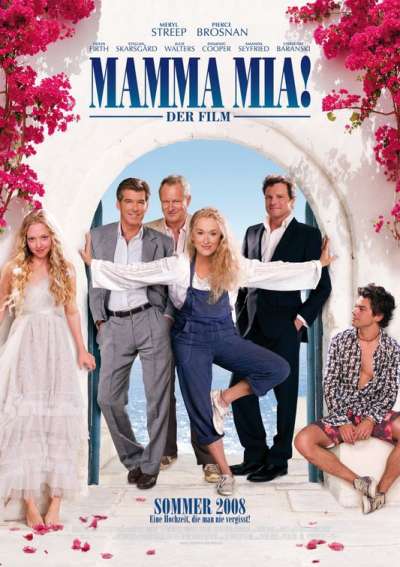 Pierce Brosnan has been one of my all-time crushes, alongside other distinguished gentlemen like Harrison Ford and Sean Connery. (Lord knows why I have a thing for debonair older men with smoky eyes.) He has been my crush since his early days as the dashing Remington Steele. I've seen him outrunning a volcano, playing a psychopath terrorist, being a father...

...But Pierce Brosnan belting out a cheesy ABBA song?!

This is what got me doing somersaults when I watched Mamma Mia, the movie adaptation of the West End musical with the same name.

Topbilling the cast were the likes of Meryl Streep, Brosnan, Stellen Skarsgard, Colin Firth, Julie Walters, Christine Baranski, and Amanda

Seyfried. Of course,
who wouldn't be familiar with Streep and Brosnan? The name, Julie Walters, may not ring a bell to you. In fact, when you see her onscreen as the vivacious writer, Rosie, she will only remain remotely familiar. But if you're a Harry Potter fanatic, you'll know that Julie Walters actually plays the big-haired Mrs. Weasley, mother of Ron and Ginny, in the HP movies!

Considering that Mamma Mia is an adaptation of the musical which made use of tunes made popular by the 70s pop-rock group, ABBA, audiences will have to contend with cheesy ABBA videoke music. However, I find it forgivable, given the fact that it is a cast of topnotch actors and actresses who were obviously having a lot of fun doing the film.

Mamma Mia brings us to an exotic Greek island where Donna (Streep) owns a ramshackle inn named Villa Donna. All is busy with the forthcoming marriage of Donna's daughter, Sophie (Seyfried), but somehow, Sophie seems to be more consumed with something other than her marriage.



Sophie has grown up never knowing who her father was. When she stumbles upon her mom's old
diary, she finds out that she has three possible dads: Harry Bright (Firth), a British banker; Bill Anderson (Skarsgard), a Swedish novelist; and Sam Carmichael (Brosnan), an American architect. She hatches a plan to find out who her real father is by inviting all three men to the island to her wedding. All this goes on without her mother's and her fiancee's knowledge.

As the story dictates, all three men do arrive at Villa Donna, and when Donna finds them in her goat house, her perfect little world turns upside down.

It seems that 20 years ago, Donna and Sam had a beautiful love affair that ended abruptly when Sam left Donna because he was already engaged to be married to someone else. This devastated Donna who eventually found solace in the arms of Harry and Bill -- at different time intervals, of course. However, even Harry and Bill left Donna. Soon enough, she found out that she's pregnant, and thus decided to raise the child (Sophie) on her own.

Now the past is haunting Donna bigtime. As the movie progresses toward the climactic wedding scene, audiences will wait with bated breath as the identity of Sophie's father will be revealed -- or will it?

Please allow me to react to Meryl Streep's character in this movie:
grabe, ang haaaaaaba ng hair niya!

Once again, Meryl Streep has proven her versatility as an actress. After her rich, proper, and bitchy role in The Devil Wears Prada, I see her again in the type of role where I like her most: laidback, rugged, wrinkled, with unkempt blond locks framing her face. She plays her age in Mamma Mia, and I'm somehow reminded of her character in Bridges of Madison County, only that this is the singing version of her character. This movie may show her wrinkles, but boy, does she still have the moves!
Streep may be no Ginger Rogers, but given the fact that she can still execute a mid-air split. I'd say that she's still one helluva dancer who's far from being afflicted with osteoarthritis!



The singing in Mamma Mia doesn't provide any great shakes, but with the likes of Brosnan and Streep belting out the tunes, that really counts for something. I already heard Streep singing in another movie, the title of which eludes my mind already, so I knew that she'd handle the singing task pretty well. But Brosnan? My jaw literally dropped when he started singing "Our Last Summer" with his fellow potential dads; moreso when he belted out "SOS" with Streep. His voice isn't Pavarotti- or even David Cook-quality, but at least he wasn't out of tune. In fact, he did sound...decent. I don't foresee any future concert performances topbilling Pierce, but I gotta hand it to this guy for actually trying everything before he dies. LOL! (Give me a chance with my evaluation of Pierce's singing: I'm still reeling in shock as of the moment that I'm writing this blog.)

For those who haven't seen Mamma Mia yet, don't leave the theater as soon as the credits roll. There's still something worth watching there. And if I may say so, that last performance of the main cast truly encapsulated their sentiments toward the shooting of the film. They were all there for one heck of a good time.